Checking Option
Objective:
The Checking Option seeks to provide preservation of principal.
Strategy:
The Checking Option invests all of its assets in a checking account held at Fifth Third Bank, National Association.
Account Owners who invest in the Checking Option may write checks or use a debit card to pay for Qualified Disability Expenses. Account Owners should retain documentation (for example, receipts) of all distributions for Qualified Disability Expenses for their records.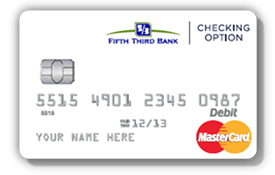 Investments in the Checking Option will earn varying rates of interest. Contributions will not earn interest until the hold period expires and the funds are deposited to the account at Fifth Third Bank. The interest rate generally will be equivalent to short-term deposit rates. Interest will be compounded daily based on the actual number of days in a year and will be credited to the Checking Option on a monthly basis. The interest on the Checking Option is expressed as an Annual Percentage Yield, or APY. The APY on the Checking Option will be reviewed by Fifth Third Bank on a periodic basis and may be recalculated as needed at any time. To see the current Checking Option Annual Percentage Yield, please go to www.53.com or call toll-free 888-516-2375.
Risks:
The Checking Option is primarily subject to the risk that the return on the underlying checking account will vary because of changing interest rates and that the return on the checking account may decline because of falling interest rates. See Appendix B – Fifth Third Bank Terms and Conditions in the Plan Disclosure Statement for additional terms and conditions applicable to the Checking Option.
FDIC Insurance:
Funds in the Checking Option will be covered by FDIC insurance, subject to applicable limits and the application of Fifth Third Bank's and the FDIC's rules and regulation to each Account Owner. Please visit www.fdic.gov for more information about FDIC insurance coverage.
No Other Guarantees:
FDIC insurance is the sole insurance available for the Checking Option. The Checking Option does not provide a guarantee of any level of performance or return or offer any additional guarantees. Neither the contributions into the Checking Option, nor any investment return earned on the contributions is guaranteed by the Plan Administrators, or any other federal or state entity or person.