Helping to make life better.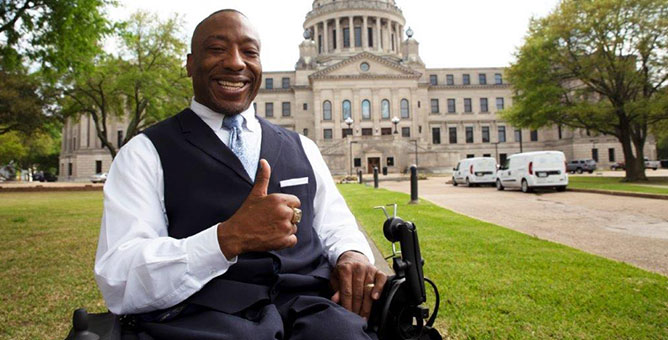 There's no limit to what people with disabilities can do. Now, that includes saving, too.
With Mississippi ABLE, you can save for qualified disability expenses without losing your eligibility for certain assistance programs, like SSI and Medicaid.
Plan highlights
Save with special tax advantages.
The earnings on your investments are federally tax-deferred and tax-free, if used for qualified disability expenses.1 That can help your savings compound, earning returns on your returns.
Maintain your current benefits.
Balances of $100,000 or less are excluded from your SSI resource limit.
Only the amount OVER $100,000 is counted against your limit, along with assets held in non-ABLE accounts.
If your account causes you to exceed the SSI resource limit, then your SSI benefits will be suspended until the account balance no longer exceeds your resource limit.2
You'll continue to be eligible for Medicaid, regardless of your account balance.3
Open an account in minutes.
Just tell us a little bit about yourself and select your investments. That's it. You can easily access your account at any time, from a PC, tablet, or mobile device. Plus, you can get started with as little as $25.
Open an account on someone's behalf.
Recent ABLE regulations expanded the list of Authorized Individuals who can open an ABLE account. There is no requirement to submit documentation to prove that you have Financial Authority to act on behalf of the ABLE Account Owner, making for a much easier enrollment process. See the Plan Disclosure Booklet for more information on Authorized Individuals.
Ways to contribute:
Check
Electronic Funds Transfer (EFT)
Payroll Direct Deposit
Recurring Contributions
What is Ugift®?
Ugift® is an easy, free-to-use service that lets friends and family contribute directly into a loved one's ABLE plan account in lieu of traditional gifts. All gift contributions sent in via Ugift are invested into the account owner's ABLE plan account and can be used to pay for disability-related expenses. ABLE plan account owners can easily use Ugift by getting a Ugift code that can be entered by family and friends to contribute at any time on UgiftABLE.com.
Make withdrawals easily.
With Mississippi ABLE, you can access your savings by:
going online
calling us
mailing a paper form
debit card or check, when you contribute to the Fifth Third Bank Checking Account Option
Avoid hidden fees.
The annualized investment costs on assets per investment option range from 0.30% to 0.33%, depending on which investment option(s) you select.
Each Account is charged an Annual Account Maintenance Fee of $58.00 that is assessed and withdrawn from the Account in the amount of $14.50 quarterly. If Electronic Delivery is selected, the Annual Account Maintenance Fee is reduced to $33.00 and assessed at $8.25 quarterly. The Plan may reduce this fee by an additional $5.00 per year ($1.25 per quarter) if the Account Owner or Authorized Individual is a resident of Mississippi.
Contribute more with Earned Income.
ABLE account owners who earn income may contribute additional funds beyond the annual $17,000 contribution limit. The additional annual contribution amount is equal to the federal poverty level for a one-person household (in your state of residence) or the account owner's gross wages, whichever is less. Working account owners are not eligible to contribute the additional funds if they are already contributing to their retirement through:
a defined contribution plan
an annuity contract
an eligible deferred compensation plan
Account Owners should keep adequate records to ensure the limit is not exceeded. Any increase in contributions could impact tax obligations, so consult a tax advisor before making any such increase. If you are eligible, fill out the Self Certification form.
Who's eligible?
Eligible individuals can open the account for themselves, or an authorized individual can open an account on their behalf. There are a few requirements that individuals with disabilities must meet to be able to have an account.
You're eligible if:
Your disability was present before the age of 26; and
One of the following is true:

You are eligible for SSI or SSDI because of a disability
You experience blindness as determined by the Social Security Act; OR
You have a similarly severe disability with a written diagnosis from a licensed physician that can be produced if requested.
You must self-certify that you have one of the following:
Blindness as defined by the Social Security Act (SSA); OR
A medically determinable physical or mental impairment with marked severed function limitation that has lasted, or is expected to last, at least 12 continuous months or result in death;

AND you must have a written disability-related diagnosis signed by a physician.
You must re-certify annually.
(Proof of eligibility is not required to open an account. However, you should maintain a record of your diagnosis, benefits verification letter or other relevant documents in the event that you are required to prove eligibility at a later time.)
What are Qualified Disability Expenses?
These are ANY expenses that are incurred as a result of living with a disability and are intended to improve your quality of life.
Qualified expenses include, but are not limited to:
Education
Health and wellness
Housing
Transportation
Legal fees
Financial management
Employment training and support
Assistive technology
Personal support services
Oversight and monitoring
Funeral and burial expenses
When savings is used for non-qualified expenses:
The earnings portion of the withdrawal will be treated as income, so it will be taxed at your tax rate, and will be subject to a 10% federal tax penalty and applicable state taxes.
Frequently Asked Questions
1Earnings on non-qualified withdrawals may be subject to federal income tax and a 10% federal penalty tax, as well as applicable state and local income taxes.
2Please see the Plan Disclosure Booklet for complete details on SSI suspension and any requirements on when you use the funds, to prevent suspension of benefits.